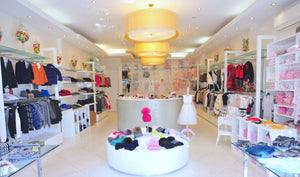 YOUR ONE STOP HIGH FASHION KIDS IMPORT EMPORIUM
Our Vision
Since 1993, our vision has always been to dress children beautifully. Founded by Bunny Ben Hooren, Coquette Kids has garnered a stellar reputation for specializing in European imported children's clothing as well as haute couture that includes an impressive collection of custom designs.
As a high-end boutique that caters to a discerning clientele, Coquette Kids has expanded to two locations - one in Brooklyn, NY and the other in Deal, NJ, selling special couture clothing for all ages, ranging from Newborn to 16 years old.
OUR VALUES
Coquette Kids is at the forefront of organizing children's fashion shows with proceeds going directly to a variety of charitable organizations.
Known for its exquisite apparel, exceptionally professional presentation and truly remarkable customer service, Coquette Kids continues to be the one-stop shop for all of your children's clothing needs.
We have over 100 brands - each one carefully chosen by our team of buyers. Every season, they always find the most beautiful, exciting new designers to offer. Our buying team has over 25 years of experience in childrenswear, selecting the very best products and brands. Every season, they travel the world to make sure we have the very best available.
Our selection ranges from the most prestigious designers - such as Dolce & Gabbana, Young Versace, Emilio Pucci, Fendi, and Balmain - to small, up-and-coming brands.
We love our customers! As a trendsetter in both casual and formal attire for children from ages newborn through pre-adolescence, Coquette Kids also deeply cares about its customer base and dressing our children with love.